Prep 10 minutes • Cook 4 hours and 25 minutes • Serves 8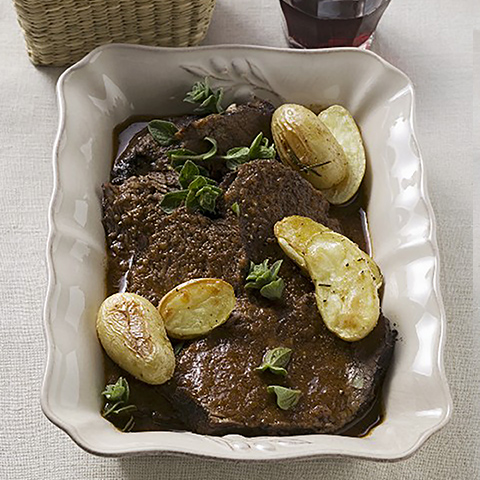 INGREDIENTS
1 3/4 lb New Zealand Springvale Grass Fed Chuck Roast
2 tablespoons canola oil
1 ½ cups red wine
2 cups beef broth
1 ½ pounds small potatoes (fingerlings, split in half)
1 ½ tablespoons fresh oregano, torn
3-4 crusty bread slices
kosher salt, to taste
freshly ground black pepper, to taste
METHOD
Preheat the oven to 275°F.
Generously season the roast with salt and pepper.
Heat the oil in a Dutch oven set over a moderate heat.
Add the chuck roast to the dish, browning well on all sides, about 6 to 8 minutes. Add the wine, bring to a boil, and let it reduce by one-third. Pour the broth around the chuck roast.
Place a lid on the dish and transfer it to the oven. Roast until tender and the center registers at least 140°F on an instant-read thermometer, about 3 to 4 hours; add the potatoes to after 2 hours.

Remove from the oven and let the roast rest for 10 minutes before serving with a garnish of torn oregano and some crusty bread on the side.