Prep 10 minutes • Cook 50 minutes • Serves 4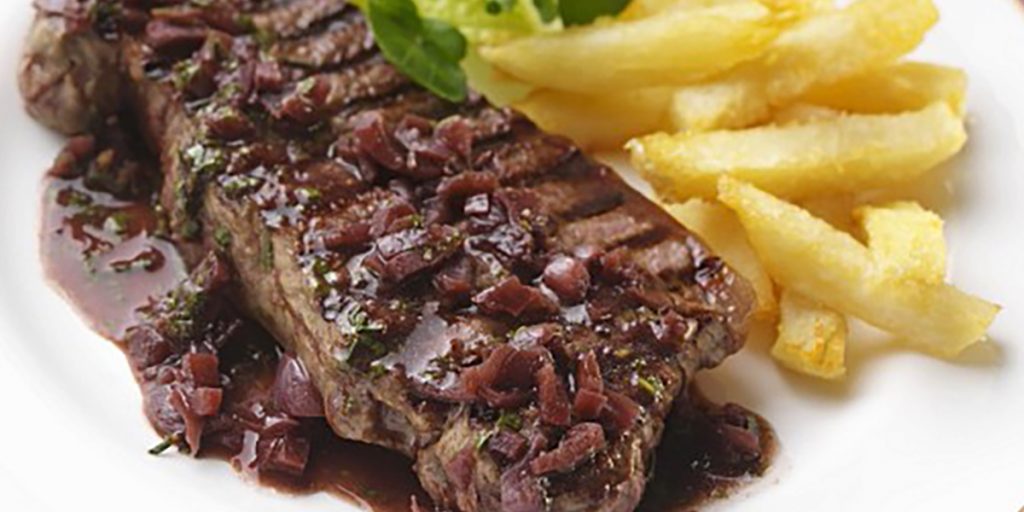 INGREDIENTS
4 New Zealand Springvale Grass Fed New York Striploin Steaks

¾ cup oz dry red wine
2 shallots, finely chopped
2 tablespoons fresh tarragon, chopped, divided
2 cups beef broth
1 tablespoon unsalted butter, cold and cubed
2 tablespoons canola oil
½ 22-ounce bag frozen French fries
1 Romaine or Cos lettuce, leaves separated
3/4 cup watercress, washed
kosher salt, to taste
freshly ground black pepper, to taste
METHOD
Preheat the oven to 400°F.
Combine the wine, shallots, and 1 tablespoon tarragon in a saucepan. Bring to a boil and cook until reduced by half.
Stir in the broth and return the sauce to a boil, skimming away any scum that forms on the surface. Continue to cook until the sauce coats the back of a spoon.
Remove from the heat and whisk in the butter by the cube until glossy. Stir in the remaining tarragon and some salt and pepper to taste.
Season the steaks with salt and pepper. Preheat a griddle pan over a moderate heat until almost smoking hot.
Add the oil and then sear the steaks in two batches, turning after 2 minutes, until lightly charred all over. Transfer completed batches to a baking sheet.
Transfer the steaks to the oven, roasting until their centers register 140°F for medium-rare meat, about 5 to 8 minutes depending on thickness. Remove from the oven and let them rest under aluminum foil.
Keeping the oven on, cook the fries according to the package instructions, usually 18-22 minutes; you can also deep-fry them in canola or vegetable oil preheated to 350°F.
When ready to serve, reheat the sauce over a low heat. Divide the steaks, fries, lettuce, and watercress between plates. Spoon over the bordelaise sauce before serving.