Prep 20 minutes • Cook 1 hour • Serves 4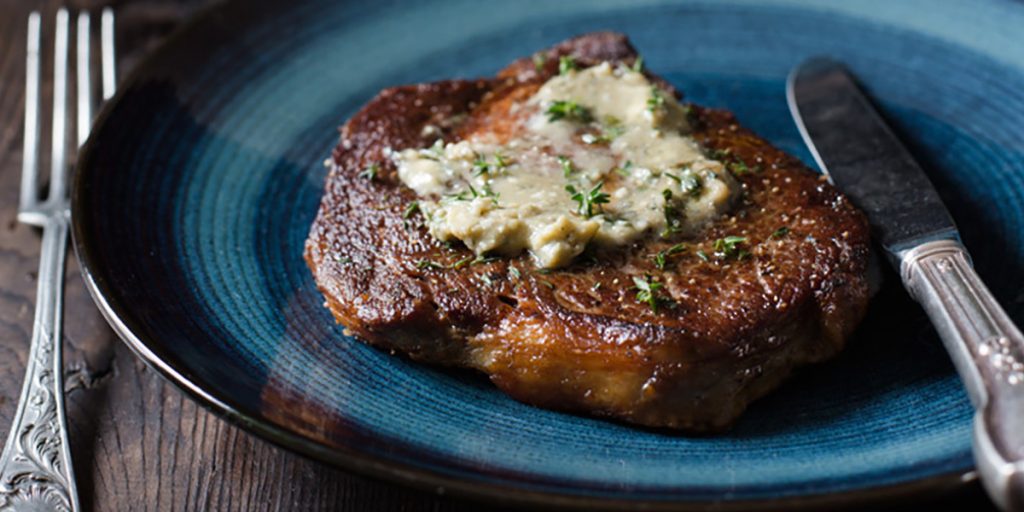 INGREDIENTS
2 New Zealand Springvale Grass Fed Boneless Ribeye Steaks, at room temperature
1/2 tablespoon picked thyme leaves, roughly chopped, optional

Blue Butter
1/2 cup blue cheese
2 tablespoons butter, softened
a dash of Worcestershire sauce
1 teaspoon finely chopped thyme leaves

Baked Potatoes
¼ cup butter
1 onion, finely sliced
2 lbs potatoes, Yukon Gold are good here, peeled
2 cloves garlic, very thinly sliced
1 tablespoon picked fresh thyme leaves
2 cups beef or chicken stock, hot

To Serve
Seasonal green vegetables, steamed or a winter green salad
METHOD
Blue Butter
Using a fork mash together the blue cheese and butter. Add a dash of Worcestershire sauce and the chopped thyme. Place on a piece of baking paper and roll into a log. Keep in the refrigerator until ready to use.

Baked Potatoes
Preheat the oven to 390°F.

Use a little of the measured butter to grease a medium-sized ovenproof dish. Heat a dash of oil in a small frying pan and add the onion. Place over a low heat and cook the onion until soft. Thinly slice the potatoes. Arrange potato slices in overlapping rows in the dish, adding the onion, garlic and thyme as well as seasoning as you layer.

Add the remaining butter to the hot stock and pour this carefully into the dish. Cover the top of the potatoes with a piece of baking paper. Place in the oven and bake for 1 hour (remove the baking paper towards the end of cooking to allow the potatoes to brown on top), until the potatoes are tender and golden and crisp on the top.

Steaks
Season the steaks and heat a large frying pan until hot. Place in the steaks and cook for 3 minutes on each side. Remove from the frying pan to a warmed plate and sprinkle over the thyme. Place 2 slices of the blue butter on each steak. Cover loosely with foil and leave to rest for 5 minutes.

To Serve
Cut steaks in half and place on 4 warmed plates along with all the melted and not-so melted blue butter. Serve with the baked potatoes.