Prep 40 minutes • Cook 6 minutes + resting time • Serves 4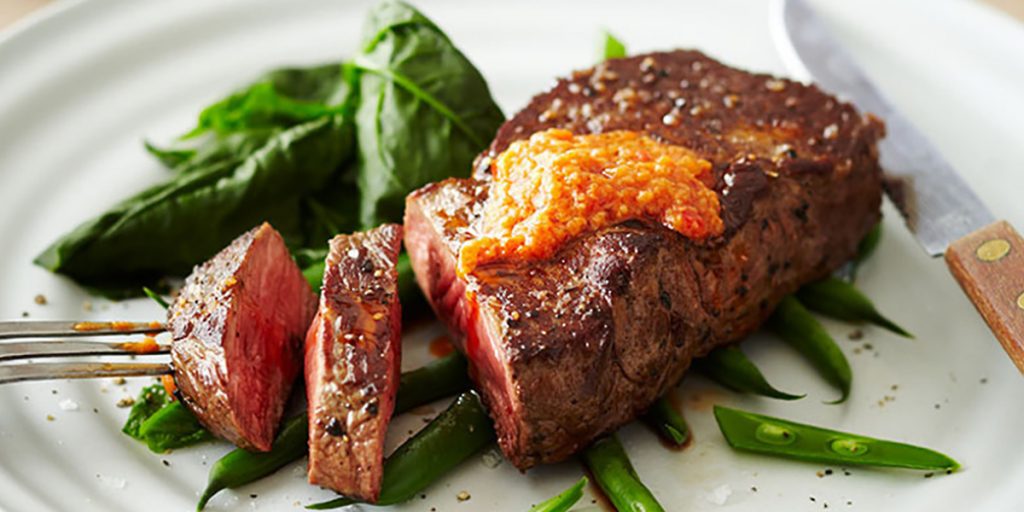 INGREDIENTS
4 New Zealand Springvale Grass Fed New York Striploin Steaks
Romesco Sauce
3 ripe tomatoes, cut in half, cores removed
1/2 teaspoon smoked paprika
1 red pepper, core removed
1 small head garlic, unpeeled and halved horizontally
1 slice sourdough bread, about 1cm thick
1/3 cup blanched almonds, toasted
2 tablespoons sherry vinegar or red wine vinegar
a pinch of dried red chilli flakes
4 tablespoons olive oil
METHOD
Preheat the oven to 375°F.

Romesco Sauce
Line a shallow roasting dish with baking paper and wrap garlic halves in foil. Place tomatoes in the roasting dish and drizzle with a dash of oil. Sprinkle with paprika and lightly season. Add the red pepper and wrapped garlic, then place in the oven to roast for 25-30 minutes. Turn the pepper over during roasting to blacken both sides. Ensure garlic is very soft (if not return to oven for a little longer).

Place the red pepper in a bowl, cover with a tea towel and allow to steam for 10 minutes before peeling away and discarding the skin and seeds. Set aside. When the garlic is cool enough to handle, pop garlic cloves out of their skins and set aside. Heat a dash of oil in a small frying pan and pan-fry the bread on both sides until golden.

Place the tomatoes, red pepper, garlic, bread, almonds, vinegar and chilli flakes in a food processor. Process to blend, drizzling the olive oil in through the feed tube. Keep Romesco sauce a little chunky to give the sauce texture. Season to taste and serve immediately or store covered in the refrigerator.

Beef
Heat a heavy-based large frying pan over a medium heat. Rub striploin steaks with a little oil and freshly ground black pepper. Pan-fry steaks for 3-4 minutes each side for medium-rare. Remove from the pan, season with salt, cover loosely with foil and leave to rest.

To Serve
Place striploin steaks on four warmed plates and top with a good dollop of Romesco sauce. Serve with wilted greens and/or green beans on the side along with remaining Romesco sauce in a small bowl.