Prep 20 minutes • Cook 90 minutes • Serves 4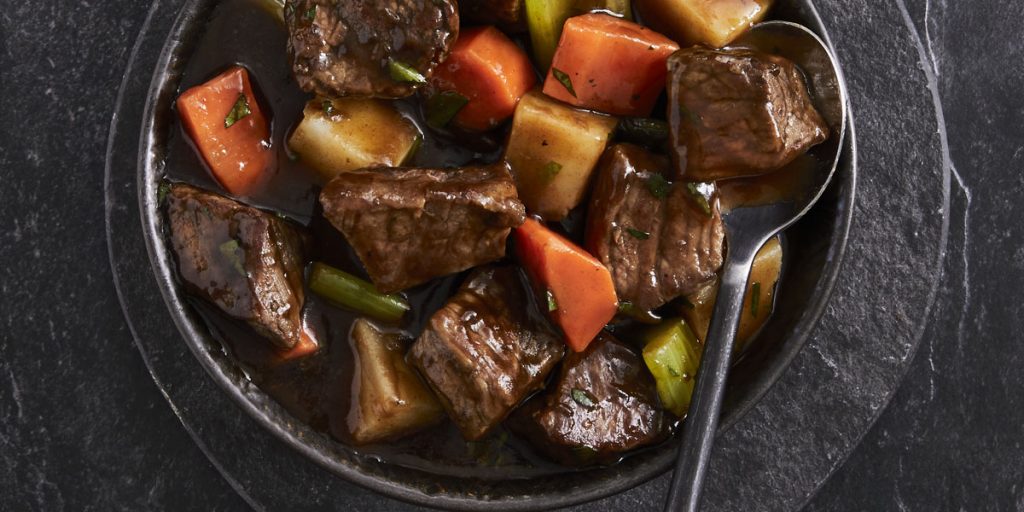 INGREDIENTS
Beef
1 package New Zealand Springvale Grass Fed Boneless Stewing Beef
2 tablespoons flour
3 tablespoons vegetable oil
2 carrots, peeled and cut in chunks
1 rib celery, peeled and cut in chunks
1 small onion, diced
2 small potatoes, peeled and cut in chunks
1 small bulb of fennel, cut in chunks
2 tablespoons tomato paste
1 tablespoon Dijon
2 cloves garlic, chopped
2 teaspoons Worcestershire sauce
2 ½ cups beef broth
½ cup red wine
½ teaspoon salt
¼ teaspoon pepper
METHOD
Preheat oven to 350ºF.
In a bowl, mix together the stewing beef cubes, the flour and ¼ teaspoon of salt.
Add 2 tablespoons vegetable oil to your dutch oven, and place on the stove at medium heat. Brown the beef cubes on all sides, and set aside.
Once removed, add the remaining tablespoon of oil, the onion, celery, carrot and fennel, and sauté for a minute.
Add the garlic and continue to sauté for another minute.
Deglaze the pan with the red wine, scraping all the bits off the bottom of the dutch oven. Add remaining ingredients and bring to a boil.
Once boiled, cover and place in the oven for 75 minutes. Remove the lid for the last 15 minutes of cooking.

Remove from oven, and adjust seasoning if need be.