Prep time 10 minutes • Cook 40 minutes• Serves 4-6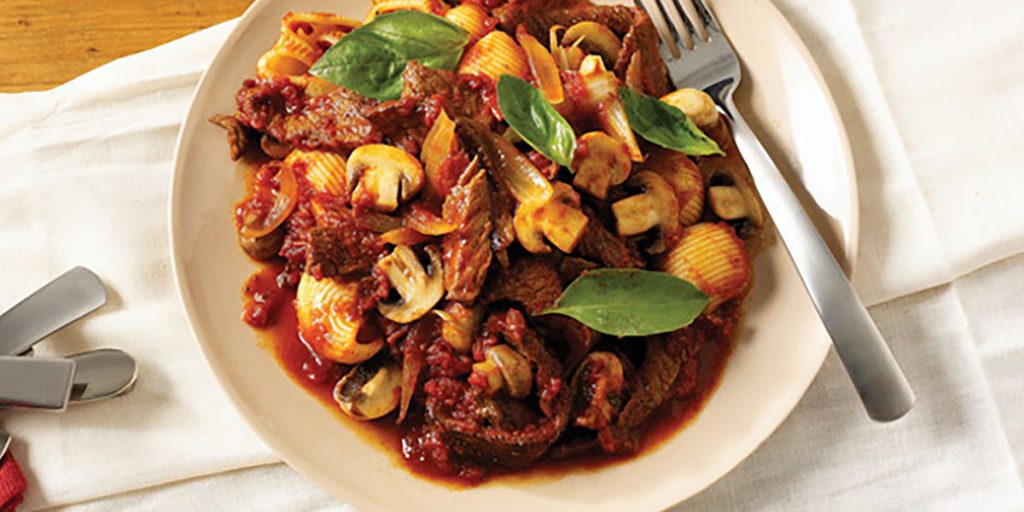 INGREDIENTS
Beef
2 lbs New Zealand Springvale Grass Fed Boneless Stewing Beef
2 tablespoons oil 
a little extra oil
1 onion, cut into thin wedges
2 cloves garlic, crushed
2 cups button mushrooms, halved
1-24 oz. jar of tomato pasta sauce
2 tablespoons tomato paste
1 cup beef stock
a of pinch sugar
large pasta shells (cooked) to serve
basil leaves
METHOD
Preheat the oven to 350°F.

Season the beef with salt and pepper. Add oil to the beef, mix well.

Heat a wok or frypan, ensure it is hot. Stir-fry the beef in three batches, remove each batch and place it in a casserole dish. Add a little oil to pan, add the garlic and mushrooms and cook for 2 minutes or until mushrooms are golden. Add the tomato pasta sauce, tomato paste, stock and sugar, stir until the mixture boils. Pour over the beef in the casserole dish and stir to combine.

Cover the casserole dish, place in oven, cook 30 – 40 minutes or until beef is tender. Serve with the cooked pasta and sprinkle with basil leaves.