Prep 15 minutes • Cook 40 minutes + resting • Serves 4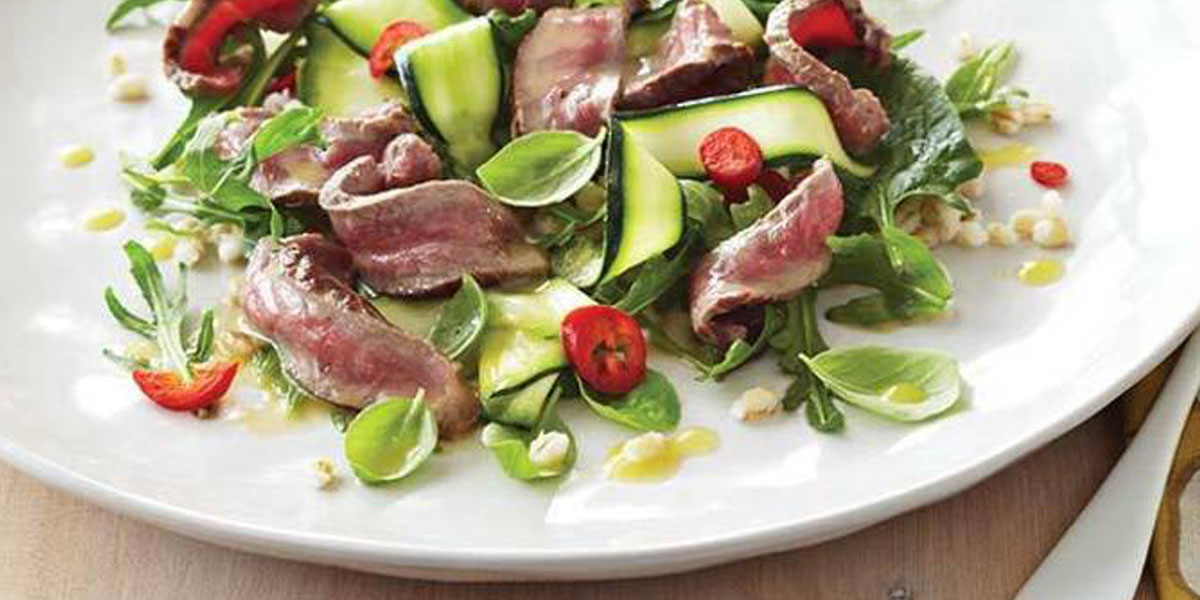 INGREDIENTS
Beef
1 lb New Zealand Springvale Grass Fed Top Sirloin Steak
Salad and Vinaigrette
½ cup pearl barley
3 tablespoons olive oil
Zest and juice of 1 small lemon
1 long red chilli, deseeded and finely chopped
1 teaspoon Dijon mustard
1 teaspoon liquid honey
4 medium zucchini, ends trimmed
2 handfuls arugula or baby spinach leaves
1 cup basil leaves, torn if large
METHOD
Give the pearl barley a quick rinse under cold water then place in a saucepan of lightly salted boiling water and cook for 30-40 minutes until tender. Drain and run cold water over the pearl barley to stop the cooking process. Drain again and set aside.
Beef
Heat a large heavy-based frying pan over a high heat (or barbecue). Rub steaks with a little oil, season and place in the frying pan. Avoid over-crowding to ensure the steaks don't stew. Pan-fry for 3-4 minutes on each side for medium-rare. Place the steaks onto a plate and leave in a warm place to rest for 10 minutes. Slice beef thinly across the grain for a tender result.
Salad and vinaigrette
Pour olive oil into a large bowl. Add the lemon zest and juice, chilli, Dijon mustard and honey. Mix using a fork and season to taste. Use a vegetable peeler to peel zucchini (into long thin slices), straight into the vinaigrette. Add arugula (or baby spinach) and basil leaves and gently toss together.

To Serve
Gently toss pearl barley through zucchini salad and place in a large shallow serving bowl. Top with the sliced beef. Drizzle over the vinaigrette that gathers in the bottom of the bowl. Serve with a side of crusty bread or boiled potatoes.