Prep 1 hour • Cook 6 minutes + resting • Serves 4-6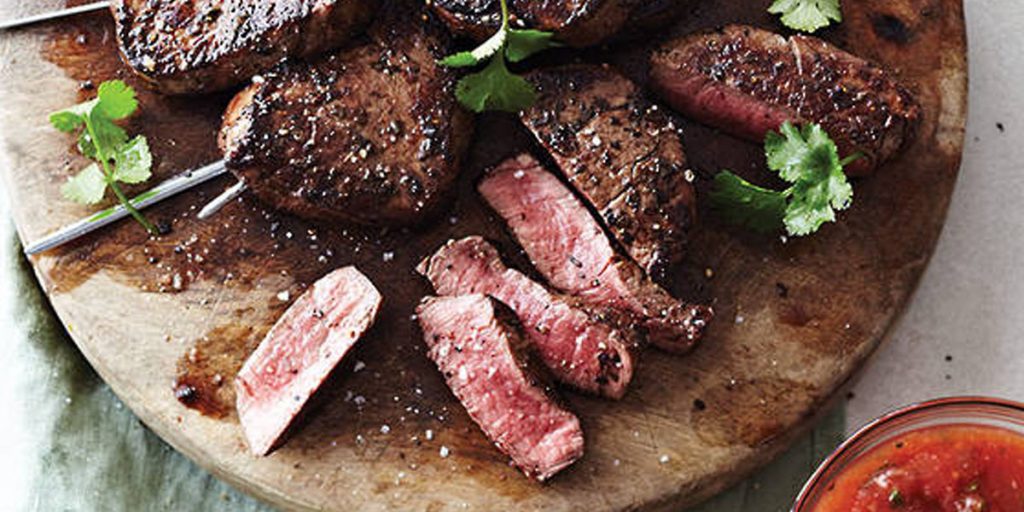 INGREDIENTS
Beef
800g New Zealand Springvale Grass Beef Tenderloin Steak
1 tablespoon dried oregano
Pumpkin Seed Salsa
1 cup pumpkin seeds
2 large ripe tomatoes, cored
1 fresh red chilli, stem removed
3 tablespoons chopped coriander
3 tablespoons chopped chives
oil to thin
Tomato Salsa
2 very ripe tomatoes, cored and skinned
4 cloves garlic, peeled
1 small onion, peeled and quartered
1 fresh red chilli, stem removed and roughly chopped
1 teaspoon sugar
1 cup picked coriander leaves, roughly chopped
To Serve
Limes, cut into wedges
Corn tortilla or tortilla chips
METHOD
Pumpkin Seed Salsa
Heat a large frying pan over medium-high heat and add pumpkin seeds. Keep them moving around the pan, cooking until they are lightly toasted. Transfer to a food processor and process until just smooth. Return frying pan to the heat and add tomatoes and chilli. Cook until they are charred all over (remove chilli first and add to food processor). Place charred tomatoes in food processor with herbs and process until a thick purée. Thin with a little oil and season with salt, then place in a small serving bowl.

Tomato Salsa
Place tomatoes, garlic, onion and chilli in a small saucepan and cover with water by 2.5cm. Bring to the boil, reduce heat, cover and simmer until ingredients are soft, about 10 -15 minutes. Drain, reserving 1 cup cooking liquid. Transfer to a food processor and process, but leaving the salsa still chunky. Add reserved liquid if necessary to thin. Stir through sugar and coriander and season to taste. Place in a small serving bowl.

Beef
Heat a barbecue plate until hot. Cut beef into 2.5cm thick slices and rub each slice with a little oil and the oregano. Thread beef on to metal skewers, place on hot plate and barbecue for 2-3 minutes on each side for medium-rare beef. Season.

To Serve
Place beef skewers on a sharing board or platter with the two salsas, lime wedges and corn tortilla or tortilla chips.