Prep 15 minutes • Cook 45 minutes • Serves 4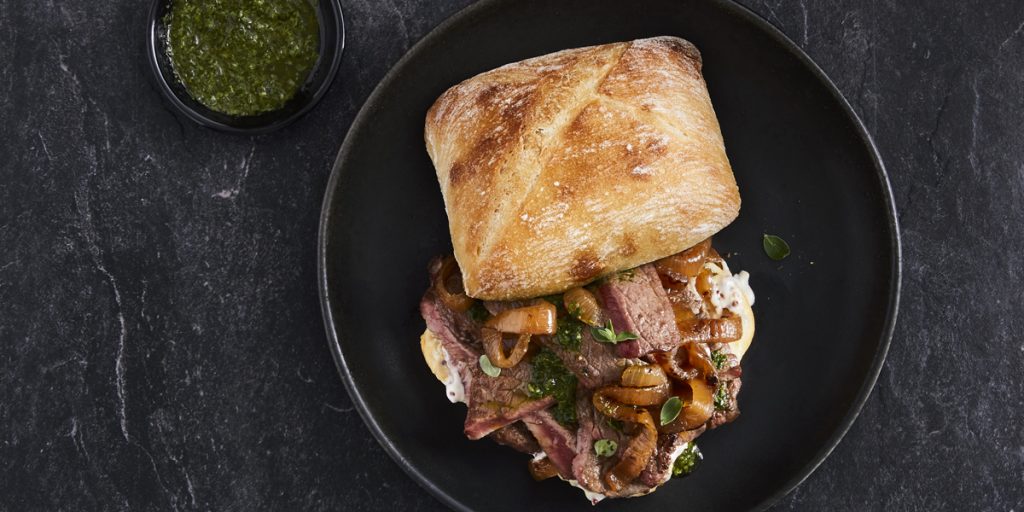 INGREDIENTS
4 slices New Zealand Springvale Grass Fed Beef Inside Round Sandwich Steak
2 teaspoons olive oil
1 large white onion, sliced into half moons
2 tablespoons butter
1 teaspoon granulated sugar
2 tablespoons beefs stock
¼ teaspoon salt

4 Ciabatta buns
2 tablespoons grainy Dijon mustard
¼ cup mayonnaise

¼ cup fresh oregano, ripped plus 2 sprigs for garnish
¼ cup flat leaf parsley, ripped
¼ cup fresh cilantro, ripped
1 teaspoon salt
1 garlic clove, chopped
¼ cup olive oil
2 tablespoons red wine vinegar
METHOD
Heat a non stick pan on medium high heat.

Melt the butter with the olive oil. Add in the onions and stir every few minutes until softened.

Add in the sugar, salt and beef stock and continue to stir and cook until the onions are nice and caramelized and the liquid is evaporated. Set aside.

Season your steaks with salt and pepper and sear each side for one minute. Remove from the pan and let rest for 10 minutes. Once done resting, slice and set aside.

In a food processor, combine the oregano, parsley, cilantro, salt, garlic clove and red wine vinegar. While the food processor is running, slowly add the olive oil in a stream until the sauce is combined.
In a bowl, mix together the mayo and grainy dijon.

Toast the ciabatta buns and then build from the bottom up. Place the grainy mayo on the bottom bun. Add some caramelized onions, top with beef, Add more caramelized onions, and drizzle chimichurri sauce on top. Garnish with remaining oregano.

Eat open face, or close the sandwich with the top bun.