Prep 30 minutes • Cook 20 minutes • Serves 4-6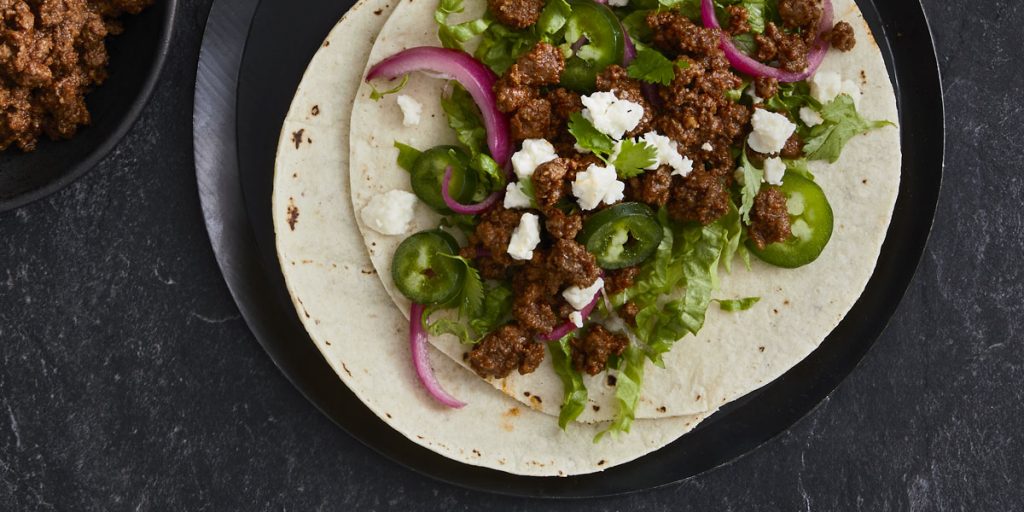 INGREDIENTS
Beef
1 package New Zealand Springvale Grass Fed Lean or Extra Lean Ground Beef
1 teaspoon canola oil
1 tablespoon chilli powder
¼ teaspoon cayenne
1 teaspoon garlic powder
¼ teaspoon cumin
½ teaspoon salt
¼ cup beef broth
12 corn tortillas
1 jalapêno, seeds removed and sliced
2 tablespoons fresh cilantro, chopped
1 cup chopped leaf lettuce
¼ cup queso fresco
2 small onions, peeled and cut into strips
1 cup red wine vinegar
2 tablespoons granulated sugar 1 tablespoon salt
METHOD
Place onions in a reusable container. Add in salt, sugar and red wine vinegar. Let sit at room temperature, shaking occasionally.
Preheat oven to 200ºF.
In a non-stick pan on medium heat, add in the ground beef. Break up the beef and brown in the pan. Mix all the spices together and add them to the beef. Continue to cook for another minute and then add in the beef stock. Simmer for 5 minutes and set aside.
In a second non-stick pan on medium heat, gently brown each taco shell. Once each is browned, place in tin foil and cover them. Place them in the oven to stay warm and soft.
Place all ingredients on the table and build your own tacos as desired.