Prep 15 minutes • Cook 25 minutes • Serves 4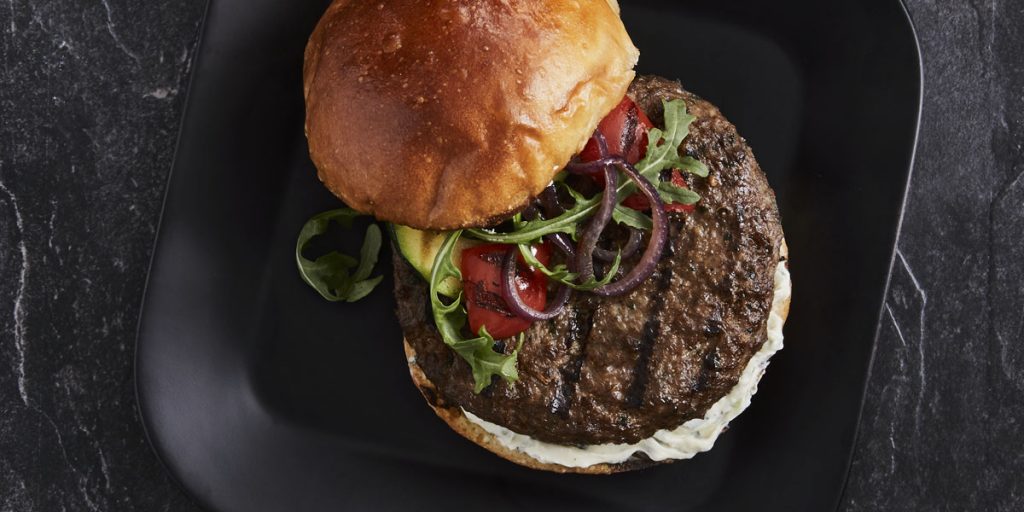 INGREDIENTS
Beef
1 package New Zealand Springvale Grass Fed Lean or Extra Lean Ground Beef
1 egg, beaten
¼ cup breadcrumbs
1 tablespoon Montreal Steak Spice
1 ½ tablespoons Dijon mustard
2 tablespoons parsley
4 brioche buns
150g Gournay herb and garlic soft cheese
2 tablespoons mayonnaise
1 cup arugula
12 slices zucchini
1 red pepper, sliced
1 red onion, cut into rings
2 tablespoons fresh thyme
1 tablespoon olive oil
2 teaspoons red wine vinegar
¼ teaspoon salt
METHOD
In a bowl, mix together the olive oil, fresh thyme, red wine vinegar, and salt. Add the cut veggies and let marinate.
Preheat your bbq.
Mix together the ground beef, egg, breadcrumbs, Montreal steak spice, and parsley. Form into 4 patties, cover and set aside.
Using a small bowl, mix the cheese and mayonnaise together and reserve for dressing your burgers.

Bbq the burgers and the vegetables, and then build the burgers with sauce on top and bottom.